EUMM - European Union Monitoring Mission in Georgia

Krtsanisi Residential Area, 49 Krtsanisi Street, Tbilisi, Georgia
Tel: +995 32 2 721800; +995 32 2 719300
Email: press@eumm.eu
www.eumm.eu

28/09/2020 06:09:02
Print | Close

https://eumm.eu/en/about_eumm/facts_and_figures/
Area of responsibility:
Georgia
Headquarters
: Tbilisi
Field Offices:
• Gori
• Mtskheta
• Zugdidi
Starting date:
1 October 2008
Head of Mission:
Marek Szczygiel
Mission strength:
Over 200 EU monitors
Mission current budget
:
EUR
€38.2 million (2018/2020)
Contributing states:
All EU Member States can contribute to the Mission
•
To ensure that there is no return to hostilities;

•
To facilitate the resumption of a safe and normal life for the local communities living on both sides of the Administrative Boundary Lines (ABL) with Abkhazia and South Ossetia;

•
To build confidence among the conflict parties;

•
To inform EU policy in Georgia and the wider region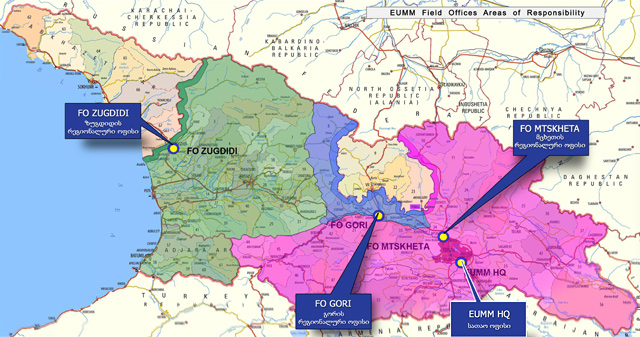 The EUMM Monitors are selected from all European Union member states. Currently we have a total of
213
Monitors from
25
different EU member states. Our Monitors are located in Field Offices in Gori, Mtskheta and Zugdidi as well as the Mission Headquarters in Tbilisi. The Mission is also supported by two international colleagues based in Brussels.
Total
Austria
5
Belgium
2
Bulgaria
13
Croatia
2
Cyprus
2
Czech Republic
6
Denmark
12
Estonia
1
Finland
12
France
0
Germany
18
Greece
10
Hungary
15
Ireland
9
Italy
6
Latvia
8
Lithuania
7
Luxembourg
1
Malta
2
Netherlands
13
Poland
15
Portugal
1
Romania
23
Slovakia
6
Slovenia
0
Spain
1
Sweden
23
Total
213
Updated: 2020-09-28