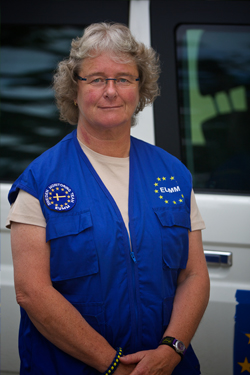 Margaretha, 55, Sweden
I have been in the Swedish Police for 33 years. Last 15 years I have worked in Border Police, first in Malmoe in Southern Sweden and for the last four years in Stockholm. My position is in Border Police Headquarters on-call group.
Georgia is my third international mission. The first one was European Union Border Assistance Mission (EUBAM) Rafah in Gaza in 2005-2006. The Palestinian Intifada was going on and we were the last lucky ones to see the border open; right after we left, it was closed until the day.
The second mission was United Nations Mission in Liberia, (UNMIL), 2008-2009. My task was to monitor and advise local police. I remember how in one village I was the first white woman children had ever seen. They came to touch me and my hair, some even run away screaming.
I joined EUMM Field Office Gori in the end of October. Perhaps the best part of the job is meeting new people and discussing with them. One of my nicest memories in Georgia was a patrol during Easter. We went to Dvani area, on the so-called Church Hill. People were commemorating their dead in the local way; having a dinner and drinks next to the graves. They immediately came to us and wanted to share what they had. This is just one example of the great generosity and hospitality of the Georgian people, which I appreciate a lot.
Patrolling is nice and I prefer it compared to office work, particularly when the weather is good. Majestic Caucasus Mountains are beautiful with their snowy peaks. It feels nice when people living close to ABL say they feel more secure thanks to our patrolling activities. Also, it is very rewarding to see how little children from the villages are happy and wave their hands when seeing us.
Back home in Stockholm I enjoy motorcycling and I have done some road trips around the Europe as well. A more time-consuming hobby for my companion and me is our summer cottage where we have more than enough to do with reparations and garden works.