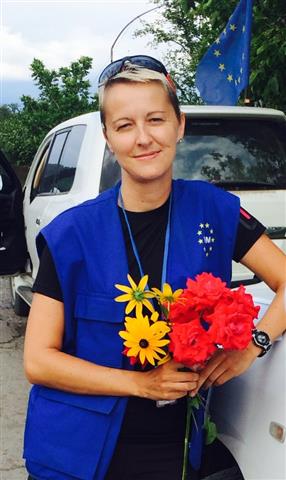 Eva Proksova, 35, Czech Republic
I have been working as an investigator for criminal police of the Czech Republic for 11 years. Although I was educated as a teacher, upon graduation from the university I decided to work as an investigator for criminal police in the capital city of the Czech Republic.
EUMM is my first international mission, but I already know that it will be my best mission. I joined as a monitor in April 2014 and I am currently stationed in Field Office Zugdidi.
In my childhood and adolescence I attended music and ballet schools, thus, I can play several music instruments. Later, I joined a dance sport club, where I practiced standard and Latin dances. Since I am single, I have plenty of time for visiting theaters, concerts, exhibitions and I enjoy reading a lot. I am also keen on cycling, skiing, swimming and other outdoor activities.
Georgia is a lovely country with beautiful nature and friendly people. I am delighted to work with professional international and local staff here. Every day at work offers interesting and inspiring experiences. But most of all, I am fascinated by outstanding work of language assistants. Their professionalism, level of knowledge and sensitivity, demonstrated during their daily activities, has vital importance for implementation of our tasks. I am very grateful for their dedication.
Georgia is a country of great opportunities. I hope the Georgian people will do their best in achieving further progress and I wish them the best of luck.