I feel privileged to have had the opportunity to serve in EUMM, Georgia
30.05.2018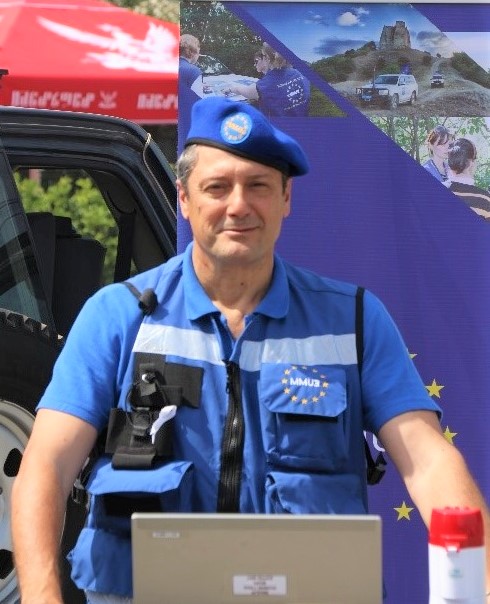 Giulio Savina, Italy
When I initially arrived in Georgia in 2003, I worked for the Border Monitoring Operation (part of OSCE). I immediately loved the people, its culture and countryside.
In February 2009, I started serving as a Monitor with the EU Monitoring Mission (EUMM) in the former Field Office Khashuri. Later I moved to Field Office Zugdidi where, in 2012, I was appointed as a Field Office Press and Public Information Focal Point.
During my long tour of duty, I served in all the three Field Office pillars: Human Security, Administrative Boundary Line and Compliance Teams.
I enjoyed all the three teams' tasks, especially in the Human Security Team, where I had the opportunity to monitor closely the impact of the conflict on the communities living on both sides of the Administrative Boundary Line with Abkhazia, and particularly Internally Displaced Persons.
Being a part of the Human Security Team afforded me the opportunity to use my personal abilities and skills (speaking Georgian) to interact with the local population and form close relationships with them and with the representatives of civil society organizations, NGOs, social and health service providers and local authorities.
My most preferred task, as part of Human Security Team assignments, is the monitoring of Freedom of Movement of schoolchildren who cross the Administrative Boundary Line with Abkhazia. These children attend schools in territory controlled by the Georgian central government. Meeting with them in winter and springtime, knowing by heart their names, listening to their stories and their dreams, filled my heart with joy and pride.
I experience the same joy and enthusiasm as the Field Office Press and Public Information Focal Point. With support from other Monitors and national staff from Zugdidi, I coordinate the annual Europe Day, which consists of cultural and sporting events like quizzes, a drawing contest, dancing, singing, running and volleyball tournaments. Each 9 May, hundreds of school and University students and teachers, representatives of Non-Governmental Organisations and International Organisations gather at the School N.1 and participate freely in the celebrations of Europe Day. On that day, the joy of the participants is palpable, especially when they receive a EUMM visibility item as a prize for their contribution to the success of the event.
The Field Office Press and Public Information Focal Point tasks give me the opportunity to disseminate the Mission's information, achieve greater Mission visibility and evaluate its perception among the Georgian population.
Through my work, with the help of the local staff and thanks to my Georgian language skill, I have the privilege of maintaining and enhancing the Mission's network of key interlocutors from all walks of life.
I am also a mentor to new Monitors who arrive regularly to Field Office Zugdidi. As well as the usual exchange of information and my experiences, I also advise them to establish, where and when possible, relationships with the people whom they meet on a daily basis.
I feel privileged to have had the opportunity to serve in EUMM, Georgia.