On 30 May, Acting Head of Mission, Kate Fearon, accompanied by Field Office Gori Human Security Team, visited the Gori University to deliver a presentation about the Mission and activities it undertakes along the administrative Boundary Lines (ABLs). During the presentation, Ms. Fearon spoke about the Mission mandate, paying particular attention to the work it conducts in Gori area. Before speaking about the Mission, Acting Head of Mission provided an overview of CSDP Missions currently deployed in different parts of the world.
More than 33 students attended the presentation, who took an active part in the lecture, asking questions related to the EUMM mandate and security situation along the ABL.
After the lecture, Acting Head of Mission gave an interview to a local news agency "Shida Kartli Information Centre".
In the frame of the same visit to Gori, Acting Head of Mission, accompanied by Head of Field Office Gori Mihaela Gherasim met with Gori Mayor and Deputy Mayor, who expressed their appreciation to the Mission for its contribution to maintaining stability on the ground.
Ms. Fearon spoke about the Mission mandate, paying particular attention to the work it conducts in Gori area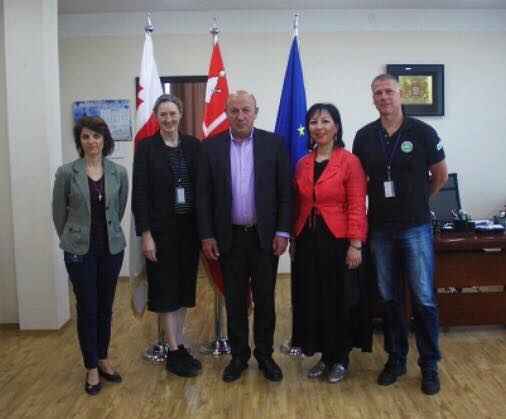 Acting Head of Mission, accompanied by Head of Field Office Gori Mihaela Gherasim met with Gori Mayor and Deputy Mayor