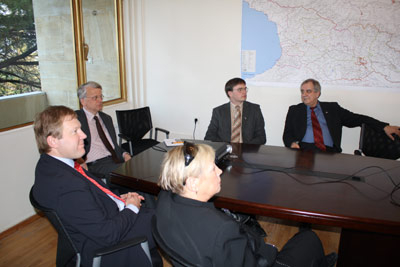 On Tuesday, 3 February, a delegation from the Estonian parliament visited the headquarters of the European Union Monitoring Mission. The members of the Foreign Affairs Committee, led by their chairman Sven Mikser, were briefed by the Head of Mission, Ambassador Hansjörg Haber, on EUMM's mandate and structure. Ambassador Haber stressed the achievements EUMM has reached in only four months: the withdrawal of the Russian troops from the adjacent areas to South Ossetia and Abkhazia and the return of many IDPs to their villages in those areas. Moreover, the security situation, far from being satisfactory, is however still better than initially expected.
The incidents happening along the administrative boundary lines remain one of EUMM's main concerns. Unfortunately, many times, there is no clear evidence as to who is responsible for these incidents.
The Estonian parliamentary team stressed the need for EUMM to be granted access to South Ossetia and Abkhazia in order to fully monitor all sides' compliance with the cease-fire agreements.