The Field Office Mtskheta of the European Union Monitoring Mission in Georgia launched a competition for schools and kindergartens in the Shida Kartli region.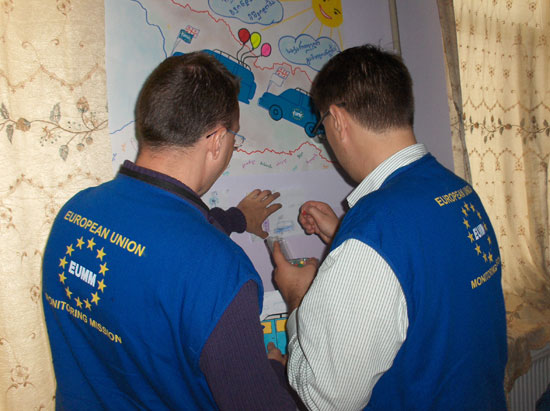 2.200 children of six schools and three kindergartens expressed how they viewed the EUMM and its work. After extensive research the younger kids made drawings and paintings, while the older ones wrote essays either in Georgian or in English.
The best three works in each age group were awarded in a ceremony organized at the school of Shavsharebi on 13 October. Children received prizes they could use in their studies: books and stationery, and of course some toys, as well. The prize awarding ceremony was made even more colourful by a musical presentation of one participating kindergarten.
The institutions that participated in the competition were:
-Kindergartens of TSEROVANI, KARALATI AND NATSERETI;
-TSEROVANI SCHOOL No. 3, SHAVSHEBI PUBLIC SCHOOL, SAKASHETI PUBLIC SCHOOL,SVENETI PUBLIC SCHOOL,METEKI PUBLIC SCHOOL, SASIRETI PUBLIC SCHOOL.