On 5 December 2017, the EU Monitoring Mission (EUMM) and the Delegation of the European Union to Georgia held an Award Ceremony for the winners of the 'EU Prize for Journalism' for 2017 in the Tbilisi Event Hall. The title of the campaign is, 'Supporting professional and ethical journalism in Georgia since 2012'.
The 'EU Prize for Journalism' was launched in 2012 by the EU Delegation and is the first of its kind in Georgia. The prize recognises works which have contributed to promoting a better understanding of the values of the European Union and reflect high standards of journalistic ethics and professionalism.
The EUMM 'Special Prize for Peace Journalism' is one of the most important categories within the prizes awarded in the overall 'EU Prize for Journalism'. This is the fifth consecutive year of the award. The term 'peace journalism' encompasses best practices of journalism and is awarded to the best conflict-sensitive journalistic work, contributing to confidence building and peace in the context of armed conflicts in Georgia.
The EUMM seeks to promote professional integrity, fair, ethical, balanced and prejudice free reporting in the region. The EUMM partner in this award is the Institute for War and Peace Reporting (IWPR), based in Tbilisi. Both work closely and tirelessly in their efforts to attain these important standards. Previous winners have been:
•
2016 Gvantsa Doluashvili
This year's winner is Nino Gogua with her piece titled "Georgians in Gali – Foreigners in their own Land" (oc-media.org) published by Open Caucasus Media. As part of her prize, she will be given an exciting opportunity to participate in a one-month fellowship at the headquarters of the IWPR in London. This is a prestigious award with potential opportunities for the winner. The fellowship can also change perspectives and thematic awareness on conflicts and the impact on peoples' lives.
A quote from the winner, Nino Gogua, "I wish to thank the EUMM/IWPR and the jury for this prize. It is a great honour for me to receive a prize for Peace Journalism and this is a big motivation for me to continue to work from the conflict zone. I will do my best to make this field a priority for my work".
A quote from the Acting Head of EUMM, Mr. Erik Hoeeg, - "In a situation with unresolved conflicts and continuous tensions, confidence building remains as important as ever. Independent, investigative media are essential in taking forward a process of dialogue between communities across the Administrative Boundary Lines. The award tonight is to an outstanding journalist that facilitates such a dialogue. Such journalists help us bridge the divide through their professional integrity, ethical, fair and prejudice free reporting and conflict sensitive journalistic work".
Other finalists in the EUMM Special Prize for Peace Journalism were Mariana Kotova, Nino Kharadze and Tamar Mearakishivili. Each received an "Honourable Mention" as their work was considered of a very high standard. Our congratulations to each of them for their excellent work.
For more detailed information on the EU Journalist Prize, visit this
link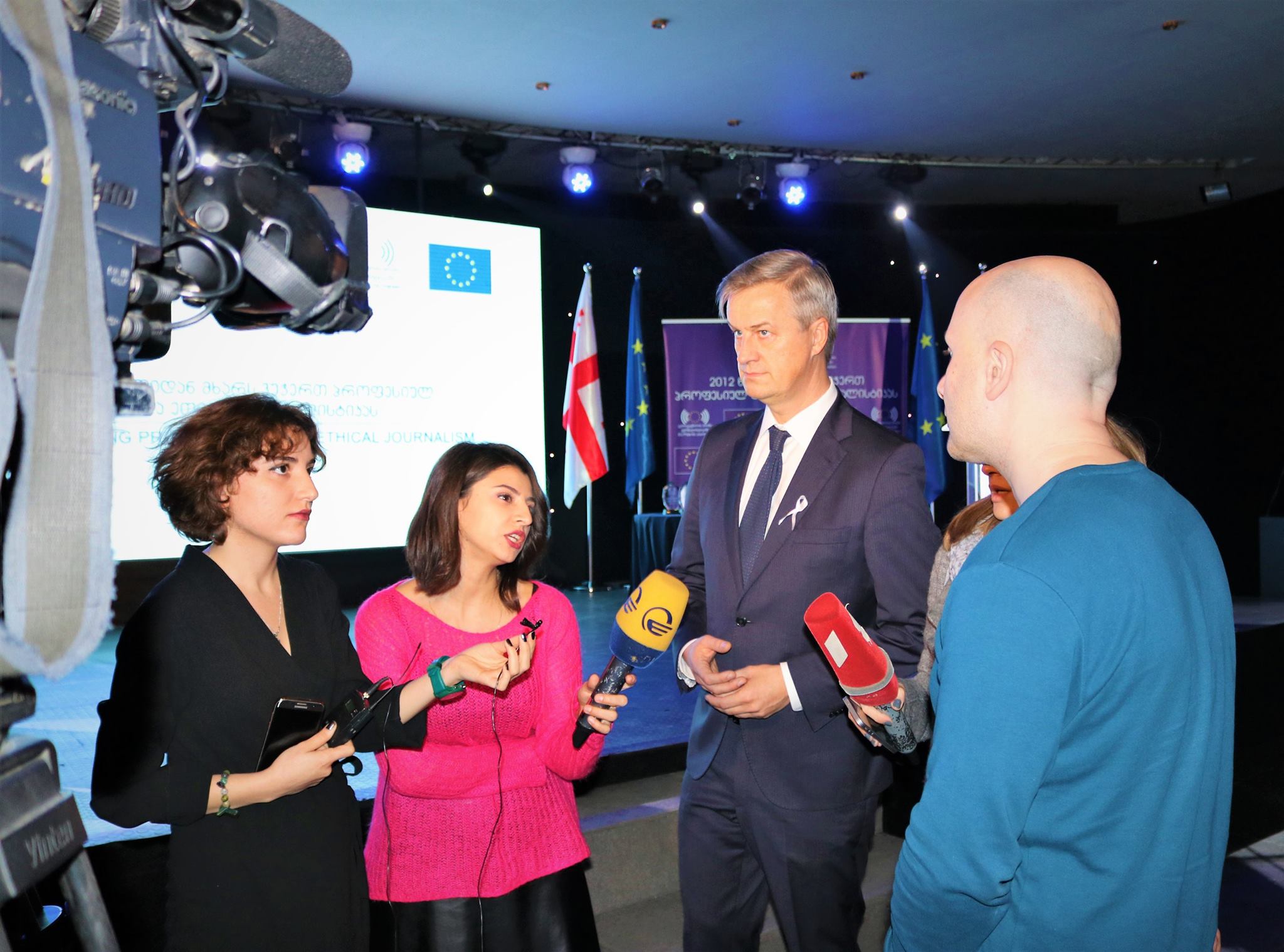 Acting Head of EUMM Georgia, Mr. Erik Høeg, talks to local TV channels about the Special Prize before the award ceremony commences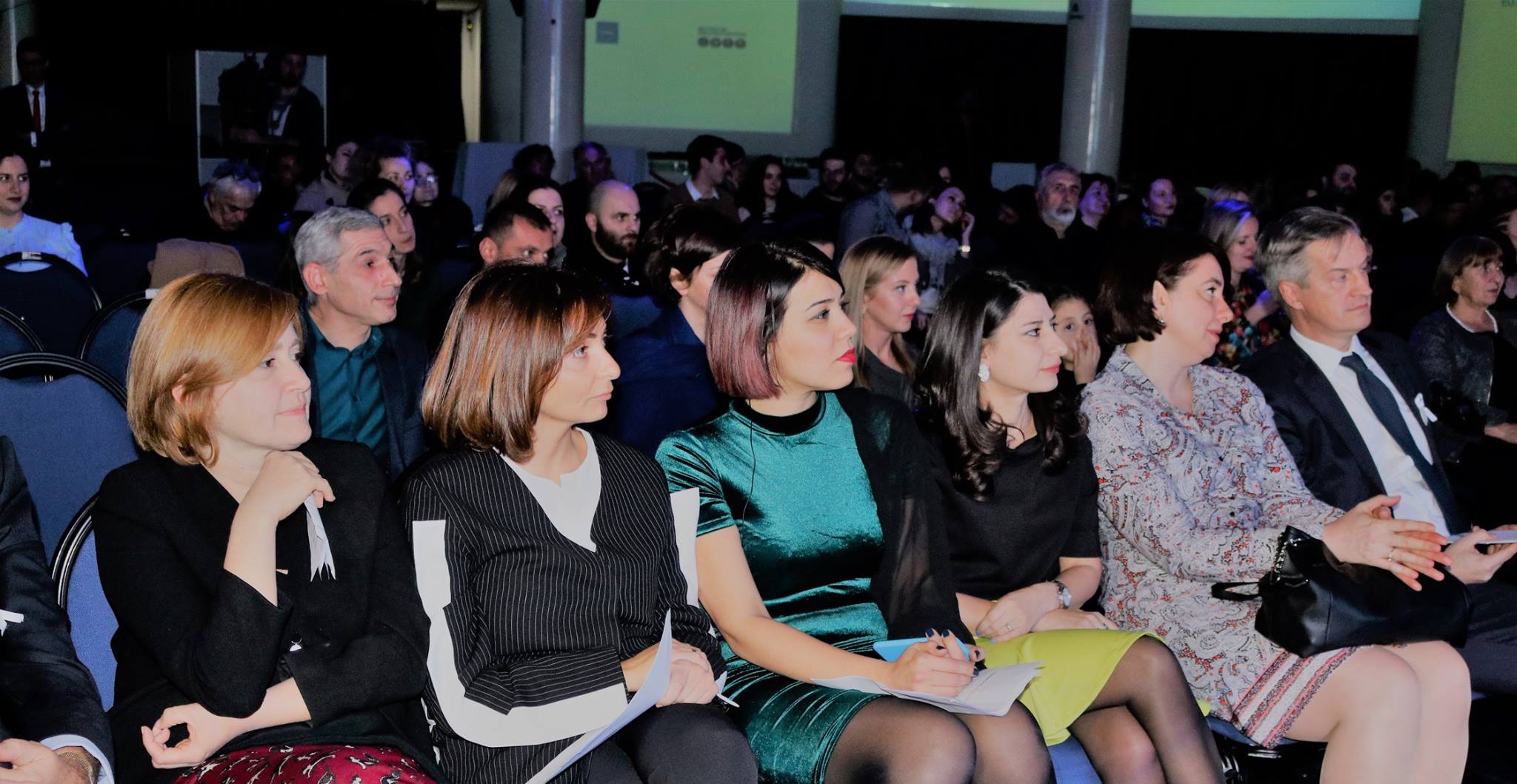 This years jury waits for the names of their favorite authors to be announced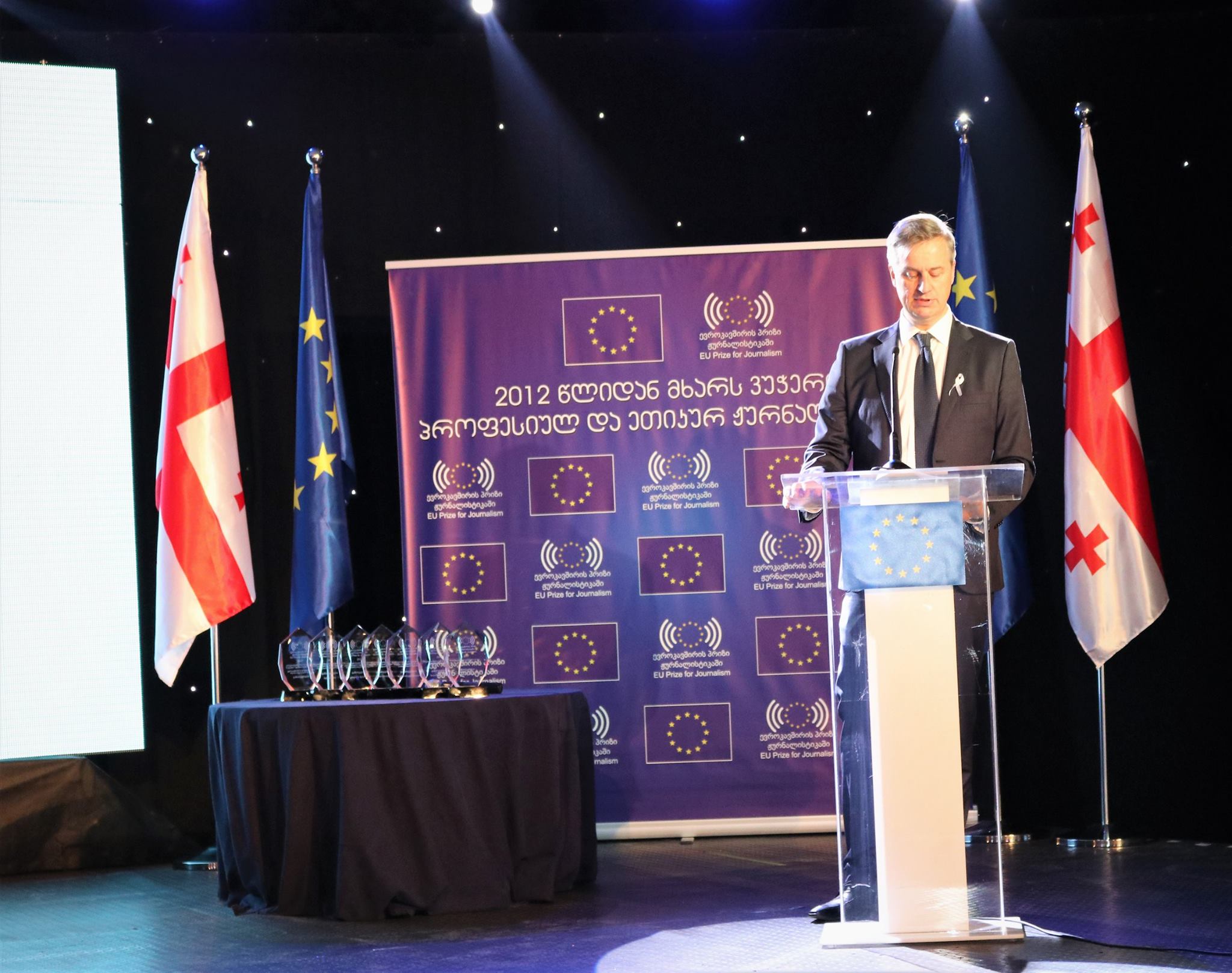 Acting Head of EUMM Georgia, Mr. Erik Høeg, speaks about the importance of conflict-sensitive journalism and work contributing to confidence-building and peace in the context of conflicts in Georgia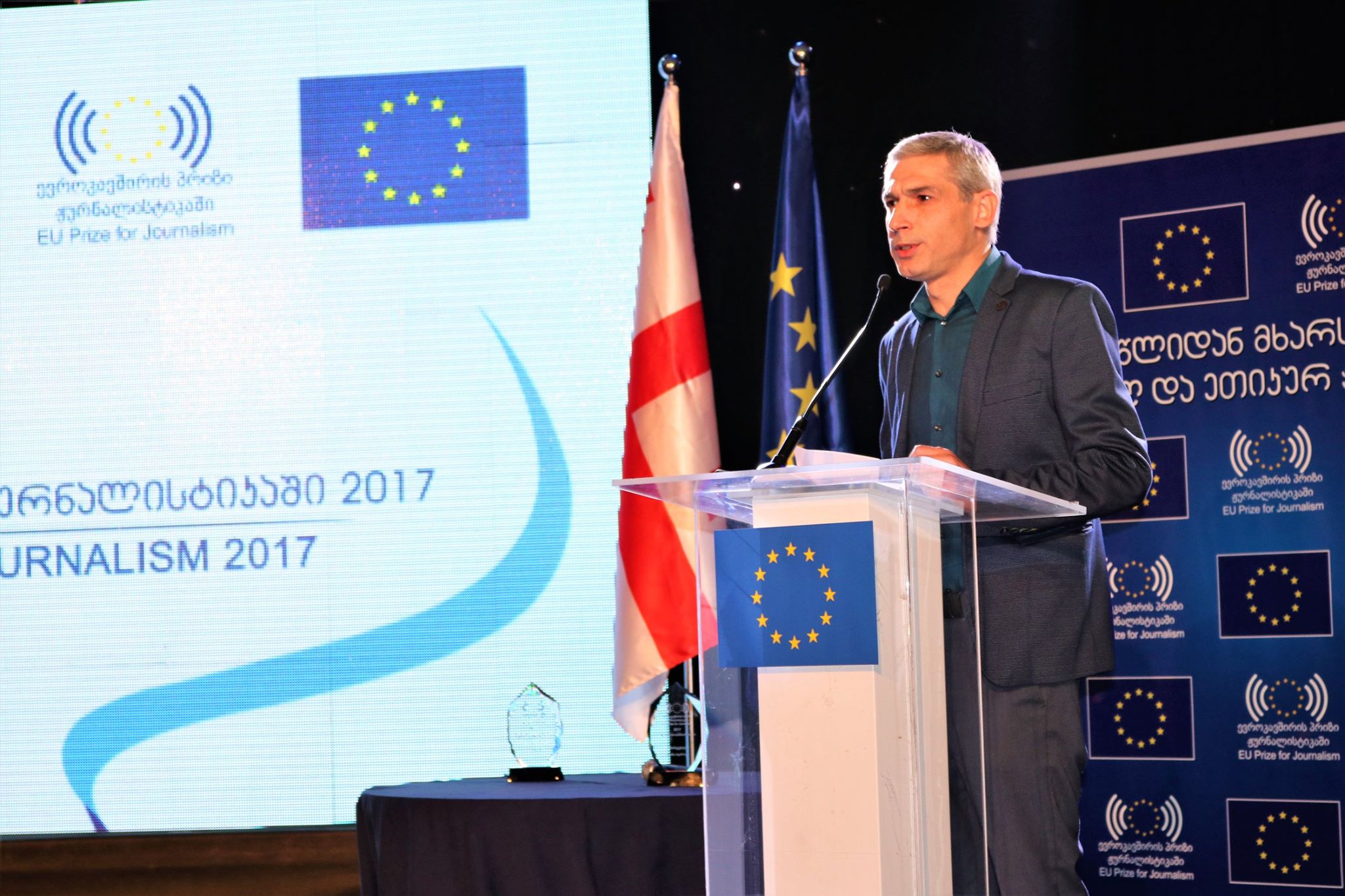 Member of jury and former winner of the EUMM Special Prize, Mr. Goga Aptsiauri, presents one of the awards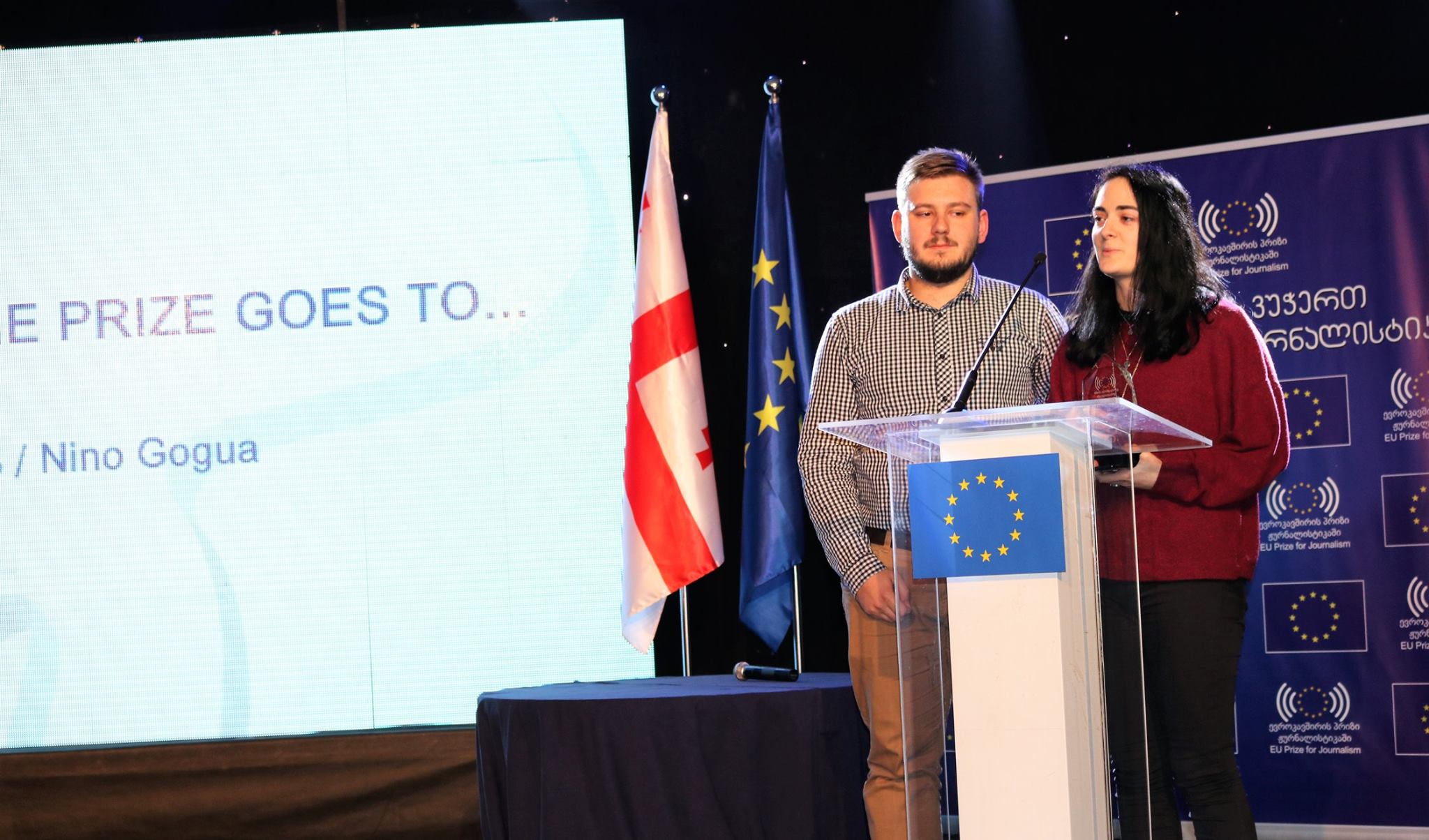 Mr. Dominik Cagara, Co-founder and Editor of Open Caucasus, thanked the jury on behalf of the winner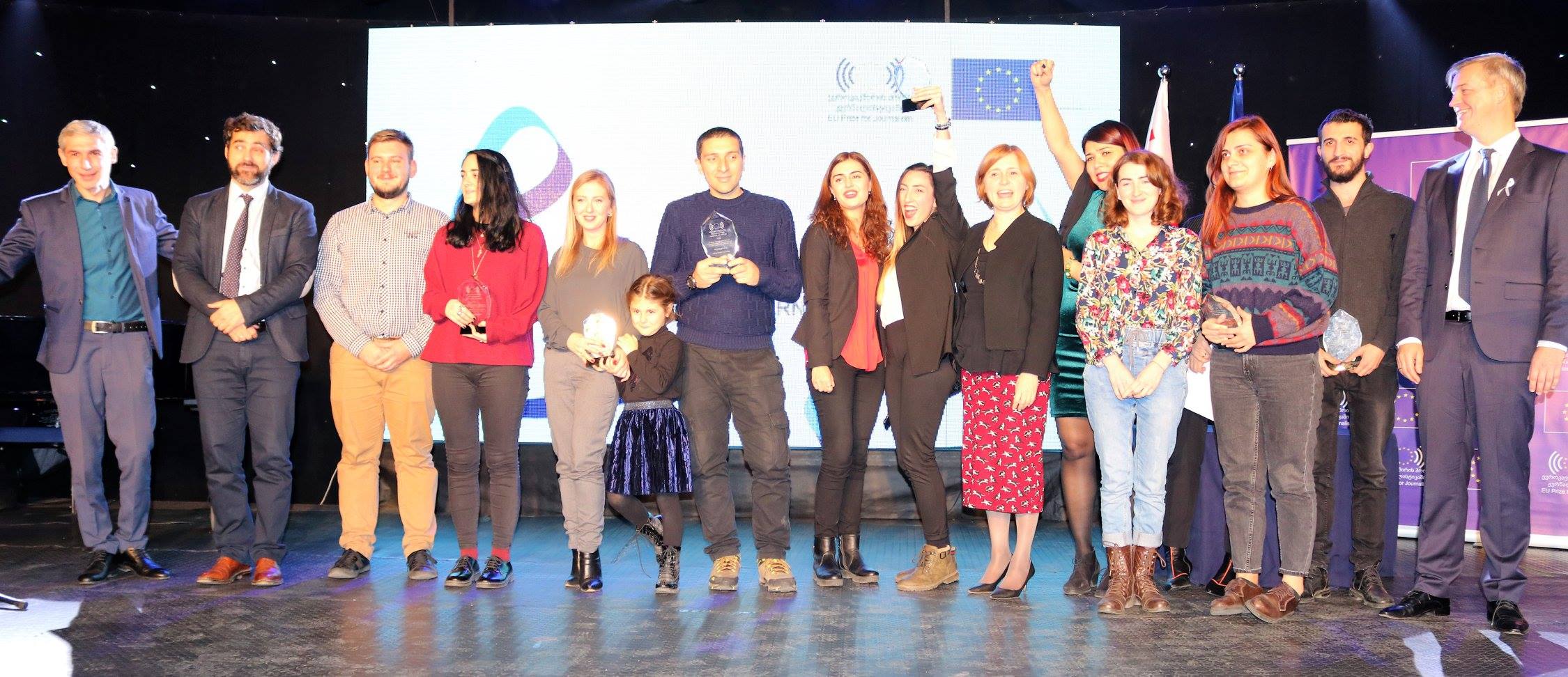 Proud winners cheer in delight and happily pose for a memorable group photo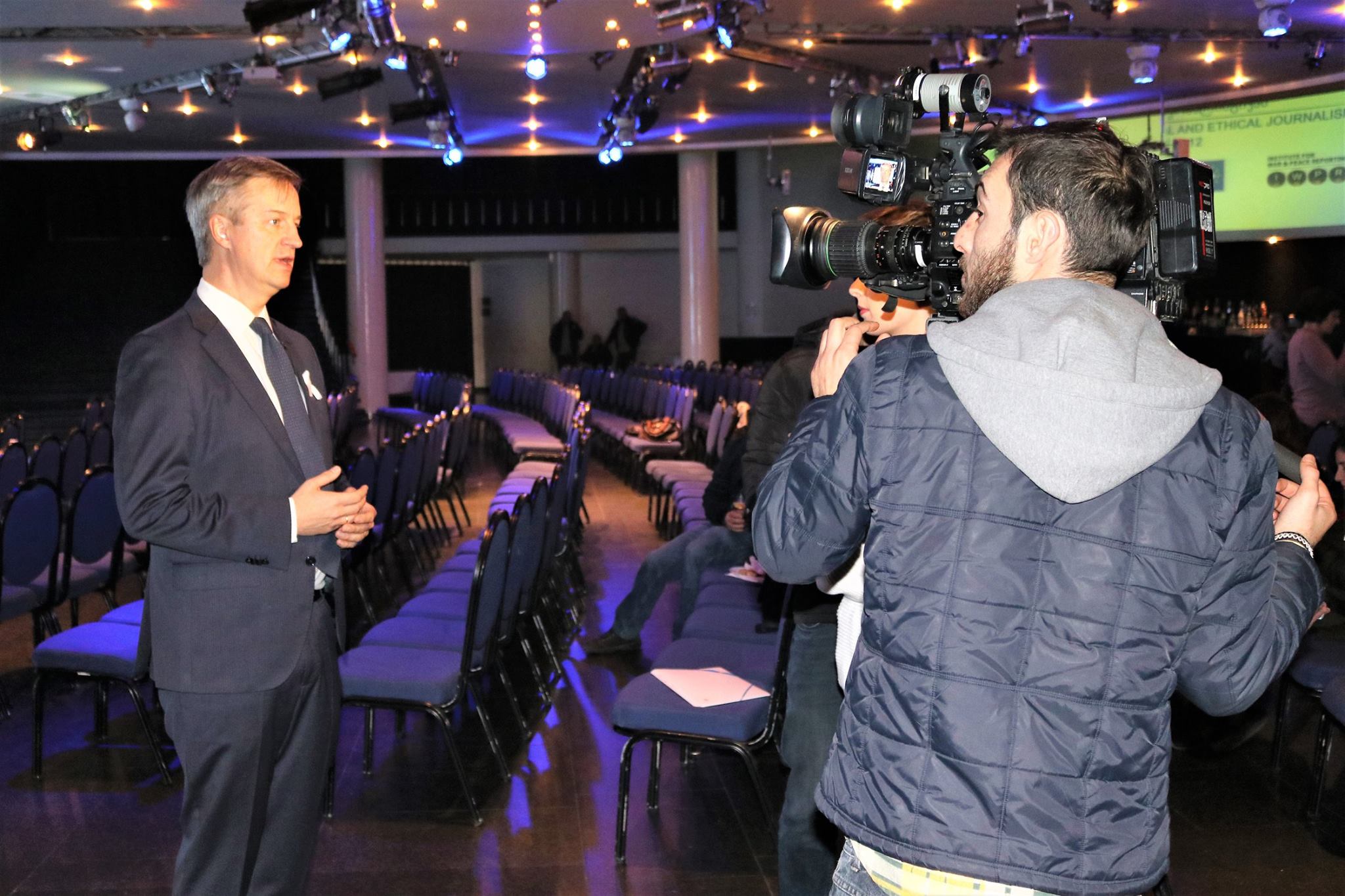 Acting Head of EUMM Georgia, Mr. Erik Høeg explains the meaning and
importance
of the EUMM Special Prize to Imedi TV after closing of the ceremony